Our team has the expertise, experience, and dedication to consistently provide superior service–and if something goes wrong after our repair or maintenance work, we make it right, always.
Reliable commercial HVAC solutions from Donohue
Since 1976, Donohue Commercial Service has been serving businesses in Tulsa, Oklahoma with integrity, consistent quality, and attention to detail. With our focus on preventative maintenance and performance guarantee, we deliver commercial HVAC solutions and services that keep your business running, while saving you time and money.
How Donohue Commercial Service provides superior commercial HVAC solutions
We're the largest employer of certified HVAC professionals in Oklahoma and a member of the nationwide LINC network. Our tradesmen provide quality service, whether you need us to design, engineer, retrofit, repair or maintain your commercial HVAC systems.
HVAC solutions from Donohue help you reduce energy costs for heating and cooling systems with energy-efficient HVAC equipment. And our maintenance and repair services help you avoid costly repairs while improving indoor air quality in your commercial buildings.
Why choose Donohue Commercial Service?
Let Donohue Commercial Service keep your HVAC equipment in good condition, resulting in less downtime, fewer repairs, and better plumbing and air quality for your employees and customers. We provide repair, and maintenance, services, adhering to LINC network standards of service so you know you can trust our work.
Our expert staff is ready to give you peace of mind with high-quality solutions delivered with excellent customer service. From our 24/7 emergency services to our personalized points of contact for customers, we make every effort to be there for you and your business every step of the way.
Reliable repair and maintenance services from Donohue
Our team wants to help you get the most value out of your HVAC equipment, so we provide comprehensive repair services for aid conditioning, heat pumps, indoor and outdoor units, and more. We service both single split and multi-split systems. But we do more than fix what's already broken.
To help you prevent unexpected costs and building downtime, we also provide preventative maintenance through our Professional Proactive Preventative Maintenance program, a subscription service that helps your business prevent and plan for emergencies at less cost to you.
Learn more about our reliable repair and maintenance services from Donohue Commercial Service and how we guarantee the quality of our work.
Our LINC service agreements
As one of over 150 contractors in the national LINC service network, Donohue Commercial Service provides commercial HVAC solutions that adhere to specific quality standards.
As a LINC contractor, we can offer repair, maintenance, and construction for multiple facilities under a single service contractor. See how our LINC service agreements ensure that your business receives consistent, reliable commercial HVAC solutions and services no matter when or where an issue arises.
Commercial HVAC services we offer
Our HVAC professionals offer a wide range of high-quality HVAC solutions and services, including:
LINC Service Agreements

24-hour Emergency Service

Centrifugal Chillers

Absorption Chillers

Reciprocating Chillers

Packaged A/C Units

CFC Reclamation/Banking

DDC and Pneumatic Controls
System/Building Analysis

Energy Management

Vibration Analysis

Medium & Low Temp Refrigeration

Eddy Current Testing

Infrared Analysis

Air Handling Units
Serving commercial buildings across industries
We serve customers in all kinds of industries, ensuring that their HVAC systems and equipment meet their facilities' needs and allow their businesses to operate smoothly. Donohue Commercial provides services and solutions for:
Hospitals

Universities

Data Centers

Banks

Medical Facilities
Temp Sensitive Warehouses/Storage

Offices

Houses of Worship

Manufacturing
Hear from our customers how Donohue's repair and maintenance solutions and services made a difference for their businesses.
"United Mechanical has been a pillar for us on multiple complex projects. Regardless of the complexity or the duration we've been able to count on United Mechanical for first-class results every single time. They truly partner with you in order to deliver the best product. If you're considering making United Mechanical a part of your team, I promise you'll be happy with your decision."
Shawn Driver
Principal L5 Construction
Learn more about Donohue's approach to providing superior HVAC solutions
Want to learn more about what to look for when shopping for commercial HVAC construction in OKC? Check out our recent blog posts.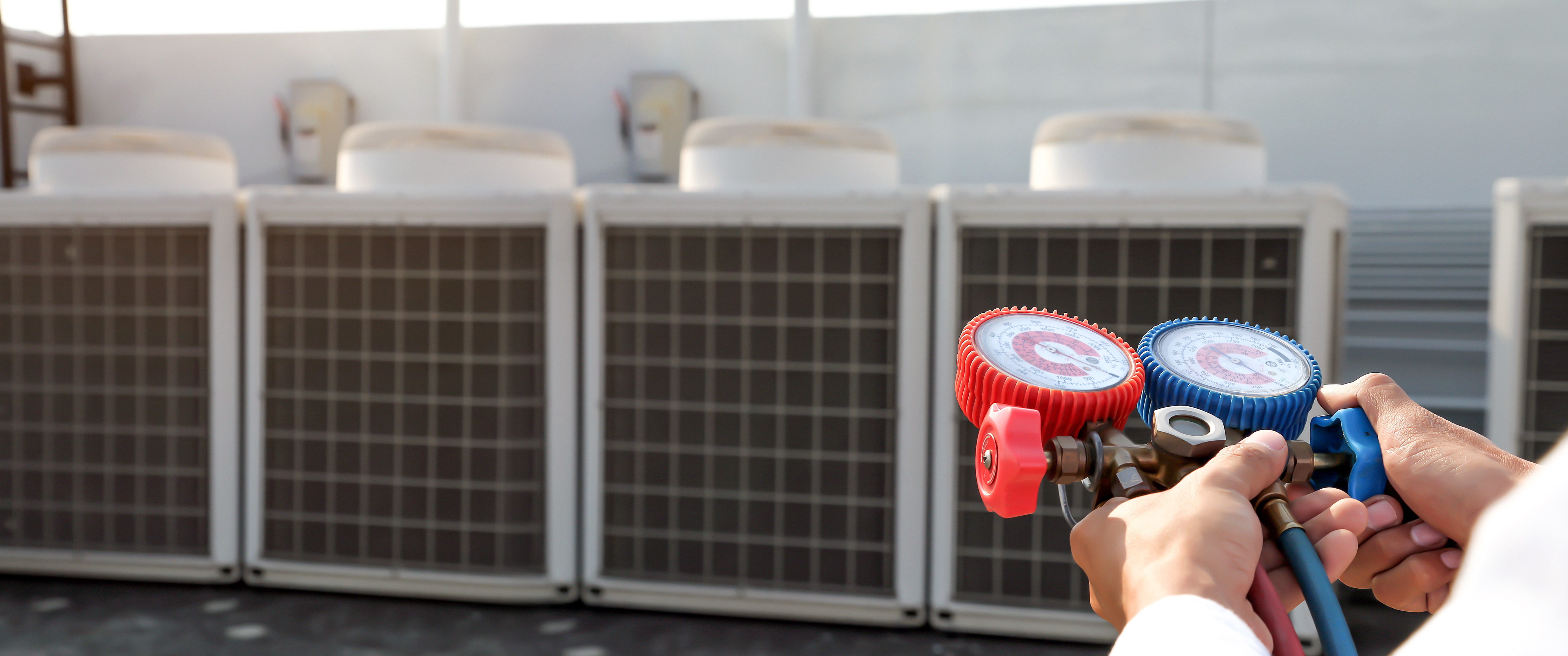 The Power of Commercial HVAC Repair
The United Mechanical TeamNov 12, 2021 9:06:11 PM
Know What to Expect from Emergency Mechanical Service You might not think about commercial HVAC repair until you have to. That is, when something...
See how Donohue's commercial HVAC solutions can support your business
At Donohue Commercial Service, our team takes pride in the work we deliver to customers. We understand how important having reliable heating, cooling and ventilation is to your business, which is why we deliver our services with care and attention to detail.
And we back our quality service and solutions with a guarantee, so you're never let down by the repair or maintenance work we deliver.
READY?
Contact us today to see how our commercial HVAC solutions can improve your commercial building's operations, save you money, and give you peace of mind.