For over 26 years Donohue Commercial Service has provided unsurpassed customer service, quality of work and attention to detail to clients across Oklahoma.
We do good work. See what others have to say about it.
"Our relationship with United Mechanical spans 4 decades in the Oklahoma City area and it has been a privilege to partner with their staff of talented employees. They approach every project with integrity and professionalism and have been integral in the growth and development of the metropolitan area. It has been our pleasure to have partnered with United Mechanical and look forward to future opportunities to continue to strengthen our relationship and grow our community."
"United Mechanical has been a pillar for us on multiple complex projects. Regardless of the complexity or the duration we've been able to count on United Mechanical for first-class results every single time. They truly partner with you in order to deliver the best product. If you're considering making United Mechanical a part of your team, | promise you'll be happy with your decision."
"United Mechanical continues to deliver a quality service—the same quality service they have provided for over 40 years. They demonstrate honesty, integrity, and a high Level of customer service and professionalism. I would recommend United Mechanical to anyone in the commercial construction industry."
"We respect and appreciate our relationship with United Mechanical. UMC provides world class technical strength in the HVAC and plumbing trades from estimating through commissioning. We enjoy working with UMC because they value relationships above all other parts of the process. Construction can be a tough business, but with partners like UMC on our teams it makes it truly enjoyable. We highly recommend UMC and look forward to the future together!"
"We have really enjoyed working with United Mechanical on projects of varying sizes. United's focus on detail and workmanship make them an easy choice for any of our projects."
"I have worked with United Mechanical for the past 31 years. United has performed professionally and consistently for our long relationship. Our project range has been from $20,000 to $20,000,000 with the same service and dedication. | believe relationships are made when problems occur, or needs arise. United has risen on every occasion to solve problems, provide the solutions, or help us to the finish line with great field and office leadership."
Years of Experience
Keeping your HVAC units in tip-top shape since 1976.
Companies
Our robust divisions allow us to address your HVAC needs, no
matter what.
Team Members
We consider our experienced team to be more than employees —
they're family.
All of our divisions pride themselves on their reliability, care and attention to detail, which makes us a great fit for operations that rely on their heating and cooling equipment, not only for the comfort of their employees and patrons but to the core functions of their business as a whole.

The construction and maintenance of the HVAC systems in these types of facilities requires precision, consistency, accountability and expertise that United Mechanical is uniquely positioned to provide.
Banks
Your bank's customers deserve the best banking experience possible. We have designed our HVAC systems so that they accommodate the temperature and humidity needs of safety deposit boxes.
Data Centers
Server towers and other key technological infrastructure pose specific HVAC challenges. Maintaining a data center's cooling and functional integrity is our specialty.
Hospitals & Medical Facilities
Regardless of the type of medical facility, airborne diseases pose a unique challenge when designing HVAC units. Our HVAC technicians and designers work directly with the building's manager to ensure that filtration, humidity, and temperature are the way you want them.
Industrial & Warehouse
There are a variety of challenges when it comes to HVAC systems in industrial settings. Based on our experience with many industrial facilities, we can provide a customized climate solution that addresses your specific concerns.
Education
When students and faculty return to school, they will need climate-controlled spaces. We are trusted by public and private institutions, as well as colleges and universities to develop the HVAC systems they rely on.
Offices
Almost every office and work environment needs a central heating and ventilation system. As a result, we maintain the bottom line of your company by keeping your HVAC in line with the workers' needs.
Houses of Worship
In worship environments, heating, ventilation, and air conditioning systems should be efficient, quiet, and unobtrusive. We strive to make your congregation as comfortable as possible. Our HVAC systems can be customized to meet the needs of your congregation.
See more of our expertise on HVAC maintenance
Want to learn more about incorporating preventive maintenance into your HVAC system management? Check out our recent blog posts.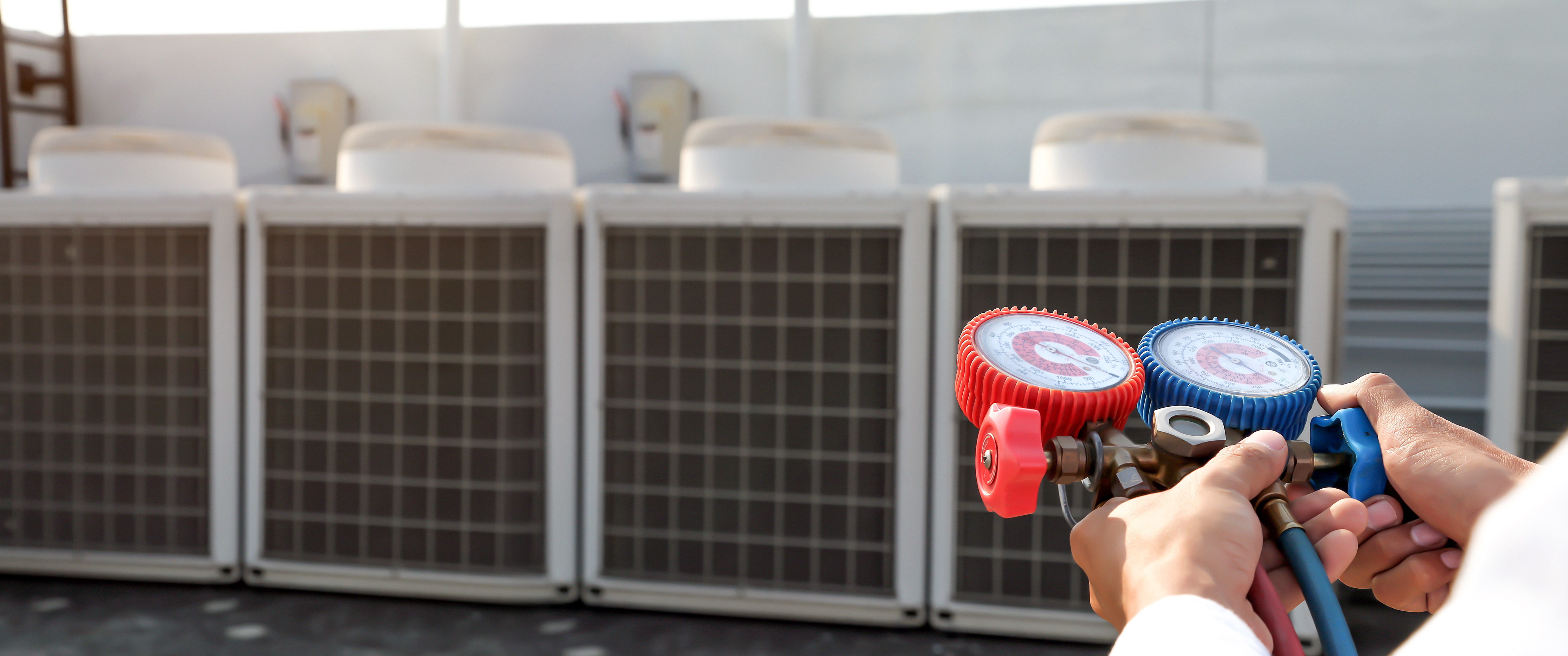 The Power of Commercial HVAC Repair
The United Mechanical TeamNov 12, 2021 9:06:11 PM
Know What to Expect from Emergency Mechanical Service You might not think about commercial HVAC repair until you have to. That is, when something...
Reach out now to receive quality maintenance services
from Donohue
The Donohue Commercial Service team delivers HVAC maintenance for Tulsa businesses with care and attention to detail. We understand how important having reliable heating, cooling and ventilation is to our customers' businesses, which is why we back our quality service and solutions with a guarantee, so you're never let down by our services.
READY?
Contact us today to see how our commercial HVAC solutions can improve your commercial building's operations, save you money, and give you peace of mind.